A Mediterranean Diet Meal Plan
Simple Swaps for Flavor and Health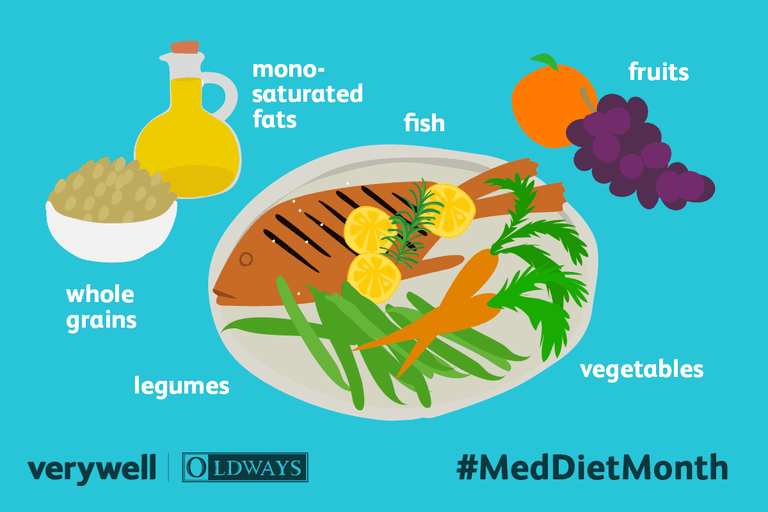 Looking to eat healthy but still enjoy delicious foods you'll want to eat again and again? The Mediterranean diet—based on lots of fresh fruits and vegetables, whole grains, beans, legumes, nuts, olive oil, fish, and small amounts of yogurt and cheese—is one of the healthiest ways of eating in the world. Thanks to its tasty foods and flavors, it's also a way of eating that you can sustain for the rest of your life.
Hundreds of scientific studies show that people who closely follow a Mediterranean diet experience many health benefits, from better heart and bone health and reduced risk of stroke and diabetes to longer lifespan. One recent study even linked the Mediterranean diet with less age-related brain shrinkage.
It's one thing to know all of the benefits of the Mediterranean diet, and a completely different challenge to put it into action. Here are a few Mediterranean swaps for each meal of the day to get started:
Breakfast
Like breakfasts in many parts of the world, breakfasts in the Mediterranean vary depending on the day of the week. On the weekend, breakfast (or brunch) is an opportunity to gather with friends and family, relax, and enjoy a traditional savory spread.
In parts of the Eastern Mediterranean, for example, you'd likely see flatbreads dipped in olive oil and sprinkled with za'atar (a Middle Eastern dried herb mix), a variety of soft and hard cheeses, hummus, fresh cucumber and tomato salad, olives, and pickled vegetables on the table.
During the work week, breakfast in the Mediterranean is quick and light.
Try these swaps:
| | |
| --- | --- |
| If you like: | Try: |
| Sugary cereal and milk | Oatmeal with milk, topped with cinnamon, honey, and sliced fresh fruit |
| Plain bagel with cream cheese | Whole grain bagel with a healthier spread, like hummus, guacamole, or a fresh, spreadable goat cheese and topped with sliced tomatoes and fresh fruit on the side |
| Muffin with butter | Greek yogurt parfait with granola, fresh fruit, and a drizzle of honey on top |
The Oldways Breakfast 1-2-3 Plan, inspired by Mediterranean breakfasts, consolidates breakfast foods into three categories:
Whole grains
Fresh fruit or vegetables
A source of protein (like eggs or yogurt)
Eating something (even a small portion if you're not feeling hungry in the morning) from each of these categories will energize you and fill you up until lunch.
Lunch
In early spring, horiatiki, or traditional Greek salad, starts appearing more often on Greek tables. It has very few ingredients—tomatoes, cucumbers, red onions, green bell peppers, sheep's milk feta cheese, and Kalamata olives—and it's dressed simply with extra virgin olive oil, red wine vinegar, and a pinch of salt and dried oregano. Fresh salads are great options for lunch, with whole wheat pita or crackers on the side.
Try these swaps:
| | |
| --- | --- |
| If you like: | Try: |
| Turkey club sandwich with chips | A sandwich with canned or pouched fish, like tuna, sardines or salmon, and a fresh green salad or a light vegetable soup on the side |
| Cobb salad with blue cheese dressing | Fattoush, a Mediterranean classic, is made from toasted leftover pieces of pita bread, a bit of extra virgin olive oil, lots of lemon juice, and whatever vegetables are on hand—cucumbers, tomatoes, radishes, and green onions are usually added, along with fresh herbs like parsley or mint |
| Roast Beef Reuben sandwich | Mediterranean mezze plate with olives, hummus, cheese, fresh fruit, and pita or crackers (if you really miss the meat, add a couple slices) |
Dinner
Traditionally in the Mediterranean, lunch is the biggest meal of the day and dinner is a lighter affair. If you're used to heartier, more flavorful dinners, try experimenting with more fresh herbs and spices.
Herbs and spices contribute to the national identities of various Mediterranean cuisines—cumin, cinnamon, and ginger in the Eastern Mediterranean and dried oregano, thyme, and saffron in Southern Europe—and they reduce the need to add salt and fat when cooking.
Try these swaps:
| | |
| --- | --- |
| If you like: | Try: |
| Mac and cheese | Small portion of whole wheat pasta (around 2/3 cup cooked) with wilted spinach, olive oil, white beans, chopped anchovies, parmigiano reggiano cheese, and seasoned with parsley, red pepper flakes, and lemon |
| Burger and fries | Grilled chicken on a whole wheat pita with tzatziki (cucumber yogurt sauce), served with oven-roasted potatoes with rosemary and olive oil |
| Fish and chips | Flounder or salmon—grilled, pan-seared, or baked in parchment—with cooked whole grains and seasonal greens, like spinach or collards. (Quinoa, brown rice, and sorghum are delicious gluten-free options.) |
Eating a variety of different fruits, vegetables, nuts, seeds, whole grains, legumes, and other healthy foods is the best approach for a well-balanced diet. Luckily, there are many delicious Mediterranean foods and flavors to inspire you. After all, people around the Mediterranean have been eating this way for centuries.
Oldways, a Boston-based nonprofit food and nutrition education organization, created the Mediterranean Diet Pyramid in 1993 with the Harvard School of Public Health and the World Health Organization.
If you really want to lose the extra flab you can get help, I write 4 blogs and I've written two E-books. Read some of my other blog posts.
gettingtoahealthyweight.blog
idropped40pounds.wordpress.com
howbaddoyouwanttoloseweight.blogspot.com
blogonweight.blogspot.com
E-books are the easiest and cheapest way to learn about any subject without groping through hundreds of websites looking for the material you want.
My first e-book is "HowBadDoYouWantToLoseWeight" and it sells for $2.99 on most online bookstores like Amazon.com, BN.com, iBook, Kobo.com, Scribd.com, and Gardner books in the U.K.
My second e-book is available in the same stores. And on smashwords.com. If you use the Smashwords' promotional code You can get my second book for $1.99 (TL96R). Just type in the search line "getting to a healthy weight".